Feeding your Brain: 6 Books You Need to Know
Apr 10, 2023
We sifted through the bundles and arrived at these recommendations for you.
Start by skimming! You are bound to find a few ideas worthy of your time, attention and commitment. It is not that challenging to get better but it does take a bit of time…
About Your Organization:

The Five Most Important Questions You Will Ever Ask About Your Organization,
by Peter Drucker and others.
You will be challenged to take a close look at the heart of you organization and what drives it.
Peter Drucker's five questions are:
What is our Mission?

Who is our Customer?

What does the Customer Value?

What are our Results?

What is our Plan?
About Your Board:
Forces for Good: The Six Practices of high-Impact Nonprofits,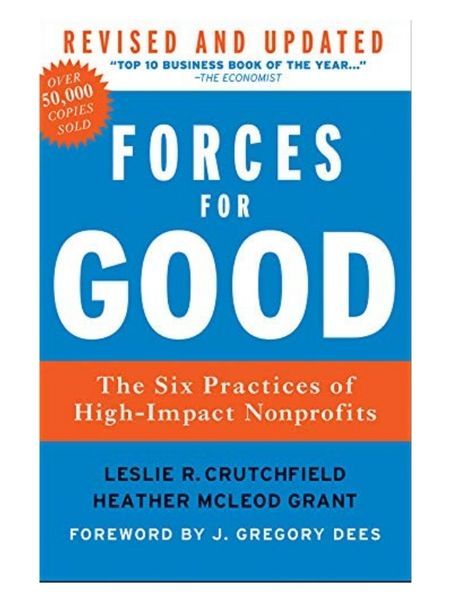 by Leslie Crutchfield and McLeod Grant.
Using a rigorous research methodology, the authors distilled six counterintuitive practices that these organizations use to change the world. In a nutshell, organizations seeking greater impact must learn how to:
Work with government and advocate for policy change, in addition to providing services;
Harness market forces and see business as a powerful partner, not as an enemy to be disdained or ignored;
Create meaningful experiences for individual supporters and convert them into evangelists for the cause;
Build and nurture nonprofit networks, treating other groups not as competitors for scarce resources but as allies instead;
Adapt to the changing environment and be as innovative and nimble as they are strategic;
Share leadership, empowering others to be forces for good.
Duties and Responsibilities of Directors of Not-for-Profit Organizations,
by Watson Advisors.
Here is a roadmap of the important duties and liabilities with practice points to help directors meet their obligations, reduce liability risk and govern more effectively in an increasingly complex environment.
Share this article with your friends and colleagues!
About You and Your Team:
Strengths-based Leadership: Great Leaders, Teams and why People Follow,
by Don Clifton and others.
Gallup scientists studied more than 1 million work teams, conducted more than 20,000 in-depth interviews with leaders, and even interviewed more than 10,000 followers around the world to ask exactly why they followed the most important leader in their life.

Here are the three keys to being a more effective leader: knowing your strengths and investing in others' strengths, getting people with the right strengths on your team, and understanding and meeting the four basic needs of those who look to you for leadership.
A unique access code allows you to take a leadership version of Gallup's CliftonStrengths assessment, with specific strategies for leading with your top five strengths and to plot the strengths of your team based on the four domains of leadership strength.
About Advocacy and Influence:
Work the Pond! Use the Power of Positive Networking to Leap Forward in Work and Life,
by D'Arcy Rezac, Judy Thompson and Gayle Hallgren-Rezac.
Networking requires you to "kiss a lot of frogs" (i.e., meet a lot of people) to find your "princes"-- those precious few who can make a difference in your life. But the real secret to networking is discovering what you can do for someone else.
Rezac uses his trademarked 7-step N.E.T.W.O.R.K. process to help you to avoid the "toads" and make the right connections-in business and in life.
N: Never leave home without your business cards
E: Establish, exchange, engage-simple techniques that really work
T: Travel in pairs--how to have more fun networking
W: "Work the pond"-practice Positive Networking and use time wisely
O: Opportunity is everywhere--discover "small-worlds" connections
R: Repeat, repeat, repeat--the more networking you does, the better you get
K: Keep it going-the art of follow-up and relationship-building
Influence: The Psychology of Persuasion,
by Robert Cialdini.
Learn why people say yes and how to apply these insights ethically. You'll learn the Universal Principles of Influence, including new uses and how to defend yourself against unethical influence attempts.
Cialdini's Principles of Persuasion:
Reciprocation

Commitment and Consistency

Social Proof

Liking

Authority

Scarcity

Unity, the newest principle for this edition
Understanding and applying the principles ethically is cost-free and deceptively easy.
What are your main "pain points" dealing with board development?
What advice would be most helpful to you?
And we always assume that you are asking for a friend!
Get in touch. We'll address your questions and concerns in an upcoming blog post.
---
Looking for Ways to Better CEO and Board Relations?
Online Board Improvement Programs with Ken Haycock
In this one-month course, you will move from feeling reticent and tentative to competent and confident, asking good questions and making great contributions. The course complements and reinforces your on-site orientation and opens new channels of communication and discussion. Four weeks. Two brief video lessons (watch at your convenience) per week plus downloadable handouts. 30-day money-back guarantee.
Our spotlight course is designed for CEOs/Executive Directors, Board Chairs, and those who are interested in leadership positions on not-for-profit, for-impact boards. Six weeks. Three brief video lessons with handouts per week (watch at your convenience) plus additional downloadable resources. 30-day money-back guarantee.
---
P.S. May I ask a tiny favour? Would you mind sharing this blog with one person? I would love it. You can post the links in your Facebook Groups, LinkedIn or even send an email.